H2 is the premier global leadership network for the technology industry supporting startup ecosystems around the world. Founded in 2010 and headquartered in Silicon Valley with chapters in major innovation centers worldwide, its mission is to connect, educate and support leaders in the global innovation economy to achieve personal growth and professional success. H2 operates as a global nonprofit organization under section 501(c)(3) of the US Internal Revenue Code.
---
Members
H2's membership consists of entrepreneurs, executives and investors from leading regional startups, global companies and early to growth stage funds. Our community reflects strong collective representation and experience from prominent private and public firms globally. Representative companies by category include:  
Leading Startups: 99 Taxis, iflix, Movile, Oyo Rooms, Postmates, RedMart, Udemy, Wego, Wibbitz  
Category Leaders: Airbnb, Dropbox, Freshdesk, Houzz, King.com, Movile, Pinterest, SoundCloud, Wooga
Major Global Firms: Amazon, Google, eBay, Facebook, LinkedIn, Tencent, Twitter, Yahoo! 
---
Chapters & Regions
Designed as a federation of communities with a common global backbone, H2 Chapters provide support for local, regional and global programs and organizational initiatives.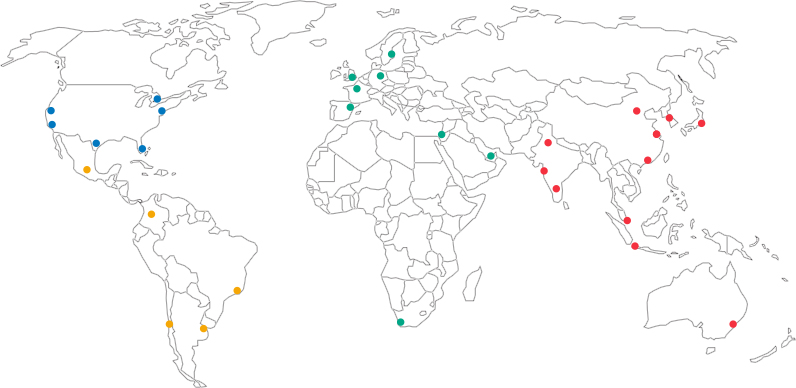 NORTH
AMERICA


LATIN
AMERICA


EUROPE,
MIDDLE EAST
AND AFRICA


ASIA PACIFIC

 
CURRENT: BANGALORE  |  BARCELONA  |  BEIJING  |  BERLIN  |  DELHI  |  LONDON  |  MUMBAI  |  NEW YORK  |  SAO PAULO  |  SILICON VALLEY  |  SHANGHAI  | SINGAPORE  |  TEL AVIV  |  TOKYO
EXPANSION: AUSTIN  |  BOGOTA  |  BUENOS AIRES  |  CAPE TOWN  |  DUBAI  |  HONG KONG  |  JAKARTA  |  LOS ANGELES  |  MEXICO CITY  |  MIAMI  |  PARIS  |  SANTIAGO  |  SEOUL  |  STOCKHOLM  |  SYDNEY  |  TORONTO
---
Networks
Organized around major industry verticals, H2 Networks provide support for sector specific community initiatives and industry connections on a global basis. Initial H2 Networks include the following:
 


ARTIFICIAL INTELLIGENCE


AUGMENTED REALITY


BLOCKCHAIN


CLIMATE


COMMUNICATIONS

 
 
 


CONNECTED
DEVICES


CONSUMER


DATA & ANALYTICS


ECOMMERCE


EDUCATION

 
 
 


ENTERPRISE


FINANCIAL SERVICES


HEALTH & FITNESS


HEALTHCARE


MARKETING

 
 
 


MARKETPLACES


MEDIA & ENTERTAINMENT


MOBILITY


ON DEMAND


PRODUCTIVITY

 
 
 


REAL
ESTATE


SAAS


SECURITY


SOCIAL


TRAVEL