H2's membership consists of entrepreneurs and senior executives from leading startups and top global firms in major technology markets worldwide. Qualifying criteria for membership consideration is as follows:
Founder/CEO: of Series A+ company backed by leading investor(s) - or -
Regional MD or CxO/VP: of leading global growth stage MNC or major corporate - and -
Experience: 8+ years (min) operating experience including 5+ years in leadership roles with increasing responsibility
---
Chapters & Regions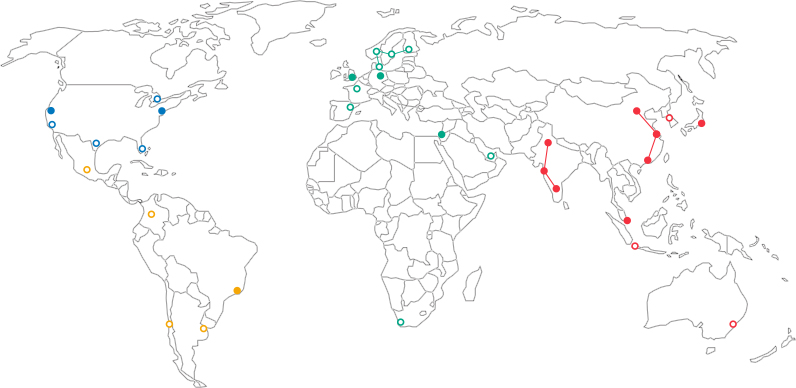 NORTH
AMERICA


LATIN
AMERICA


EUROPE,
MIDDLE EAST
AND AFRICA


ASIA PACIFIC

 
CURRENT: BERLIN  |  CHINA  |  INDIA  |  LONDON  |  NEW YORK  |  SAO PAULO  |  SILICON VALLEY  |  SINGAPORE  |  TEL AVIV  |  TOKYO
EXPANSION: AUSTIN  |  BARCELONA  |  BOGOTA  |  BUENOS AIRES  |  CAPE TOWN  |  DUBAI  |  JAKARTA  |  LOS ANGELES  |  MEXICO CITY  |  MIAMI  |  NORDICS  |  PARIS  |  SANTIAGO  |  SEOUL  |  SYDNEY  |  TORONTO
---
Membership Opportunities
Membership is H2 is on an invitation-only basis with nominations supported by our Advisory Board as well as H2 members and partners globally. We also invite qualifying individuals to inquire about membership opportunities.
Profile information received through nominations and inquiries will be evaluated by our Global team to identify leading candidates, factoring in growth and diversity objectives across our community, ahead of further engagement with prospects including a short 1:1 session with the nominating member or our Global team. 
---
Expectations
Expectations for new and renewing H2 members in active standing with one of our global Chapters include the following:
Participation: engagement in H2 programs (Forums, Connect, Global Summit) including participation in at least two (2) Forums per calendar year
Community: timely responses to introductions and inbound requests within the H2 community, including support where possible
Nominations: contribution of qualifying nominations for members and partners across H2 Chapters
Membership in H2 is subject to a review and renewal process at the end of every calendar year based on member engagement and/or member circumstances that may change from time to time. Membership renewals and transitions to alumni status will be issued and communicated by Global on the basis of (but not limited to) member expectations as outlined above. In addition, changes in member circumstances (e.g. change in geography or professional profile) or code of conduct violations may trigger a change in or loss of membership status at any time.