Our new H2 WhatsApp Community aims to support cross Chapter community building and connections across H2's global member network. Please see below for additional information including our initial channel structure, sharing guidelines and launch timeline. 

---
Channels & Participants
Our H2 WhatsApp Community features the following initial channel framework to connect H2 members both within and across Chapters around key community sharing use cases (links lead to current participant lists by channel):
By Chapter
Chapters: H2 members affiliated with each of our global Chapters
By Region
By Profile 
Founder/CEOs: H2 members globally who are Founders and/or CEOs of active VC backed companies
Investors: H2 members globally who are investors with early to growth stage VC funds and PE firms
Note: to maintain the integrity of participant profiles by channel, H2 members will be added/invited to participate based on their respective profiles. Channel affiliations may be changed from time to time based on H2 member profile changes. Channels marked as open [O] may be joined by any H2 member.
---
Sharing Guidelines
Our primary sharing use cases across channels are listed below. Participants are expected to keep to the spirit of the H2 community and maintain a professional context (no advertising, jokes, religious/political threads, etc).
Leads & Needs
Industry News & Insights
Flash Sessions (Digital)
Member Welcomes & Successes
Event Opportunities
Research & Reports
Recommended Vendors
Additionally, we will be developing content initatives (e.g. Featured Member of the Week, polling streams, etc.) aimed at driving engagement and activity across our channels.
---
H2 Regions & Chapters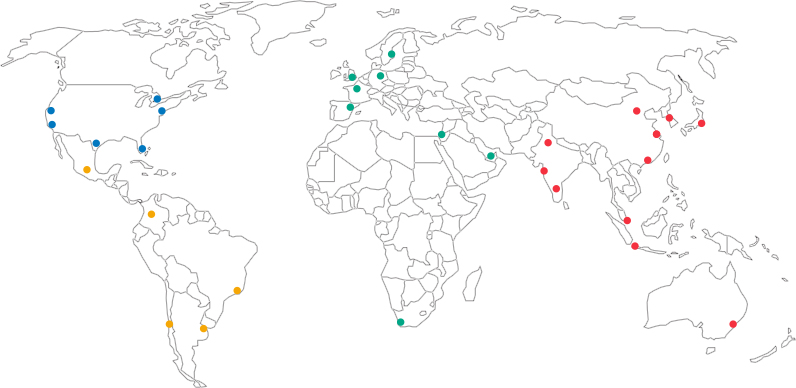 NORTH
AMERICA


LATIN
AMERICA


EUROPE,
MIDDLE EAST
AND AFRICA


ASIA PACIFIC

 
Current and Expansion [E} Chapters in each of H2's four global regions are as follows:
NA: Austin [E], Los Angeles [E], Miami [E], New York, Silicon Valley, Toronto [E]
LATAM: Buenos Aires [E], Bogota [E], Mexico City [E], Santiago [E], Sao Paulo
EMEA: Barcelona [E], Berlin, Cape Town [E], Dubai [D], London, Paris [E], Stockholm [E], Tel Aviv
APAC: Bangalore [E], Beijing, Delhi, Hong Kong [E], Jakarta [E], Mumbai, Seoul [E], Shanghai, Singapore, Sydney [E], Tokyo